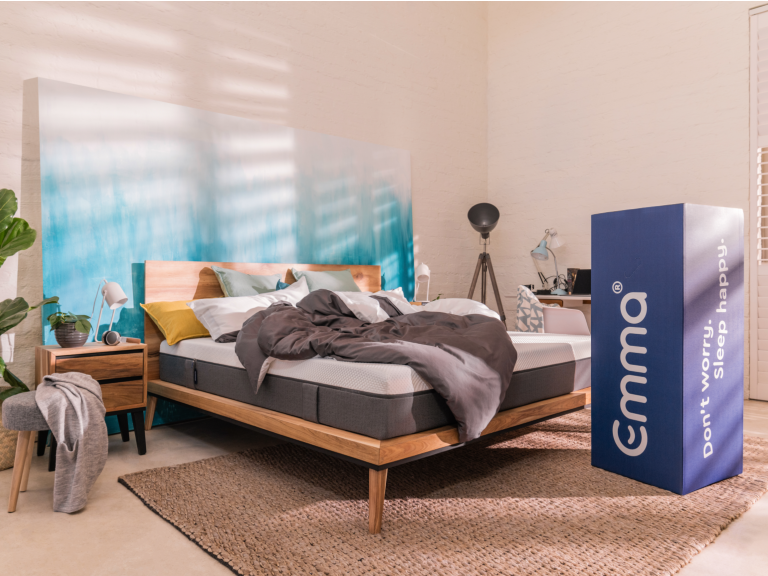 The Emma Twin Mattress
Perfect Mattress for All Ages
The perfect sleep from A to Zzzz
Take a look under the covers
The Perfect Choice for All Ages
The Twin Mattress
The Emma Twin Mattress is the perfect size for your kids of all ages. Whether you're shopping for your child fresh out of the crib, or for your on-the-go teenager, the Emma Twin foam mattress is the right fit for them. No matter what sleeping positions or body sizes we're working with, the Emma Twin mattress accommodates all sleepers. Our innovative memory foam blend ensures a comfortable, cool, and supportive night's sleep. Your sleepers won't find themselves sinking into the bed, nor laying stiffly on top. The Emma Twin mattress is the best twin mattress for all of your sleepers' needs.
Emma is the reason why so many Europeans can't get out of bed
Emma's Comparison Table
Our Best Mattress Size Guide
Maybe you know you want a smaller mattress. But you still may be wondering, "how long is a twin mattress?" Or "What are the twin size mattress dimensions?" These specific measurements can prove to be of vital importance when planning your bedroom design. Below you will find the twin mattress dimensions, allowing you to better imagine an Emma Twin in your home
Length (in)

Width (in)
75"
80"
84"
38"
Twin
Twin XL
-
54"
Full
-
-
60"
-
Queen
-
72"
-
-
Cal King
76"
-
King
-
Twin Mattress
The Twin mattress (or single) measures 38 inches wide by 75 inches long (97 x 191 cm) was introduced to the American market after the Civil War. Being the smallest bed in a box size available, it's best for children and single adults. Another great reason to purchase a Twin size mattress is if you are conscious about living space in small or studio apartments.
Price: $799
The Emma Promise
We've made how to choose a mattress easy!
We want you to get the best night's sleep, that's why we're not just committed to giving you the best products. We've simplified the ordering process and are more than happy to offer you free delivery and returns.