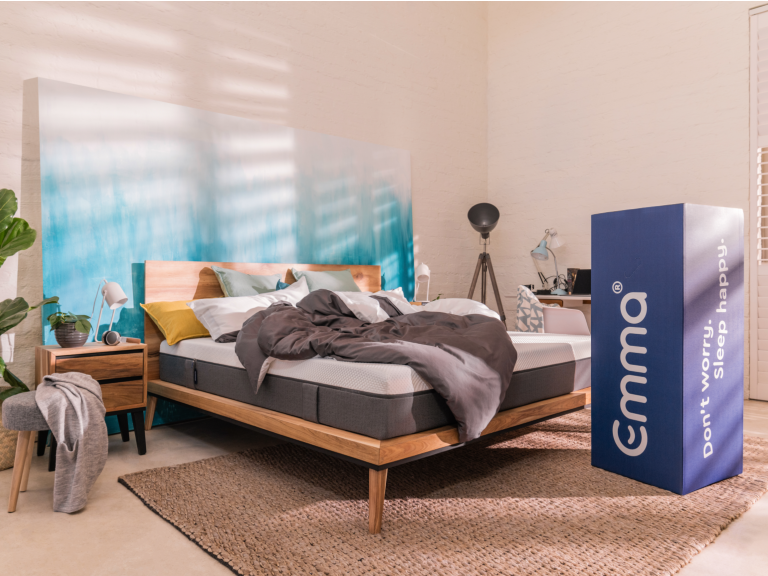 The Emma Twin XL Mattress
The Perfect Choice for Tall Sleepers
The perfect sleep from A to Zzzz
Take a look under the covers
Product Details
Construction and Materials

Mattress Construction

Climate Regulating Cover
Adaptive Airgocell Foam
Pressure Relieving Visco-Elastic Memory Foam
Supportive Base Foam with Adaptive Cut-out Technology
Made in the USA

Mattress Cover Materials

The Emma Mattress cover is removable and machine washable. It is composed of 99% polyester and 1% elastane.

Size and Weight

Twin XL Mattress

38 x 80 x 10 in,
34 lbs

Box Dimensions

Each Emma mattress comes in a 17"x17"x44" box.

Shipping Details

The Emma Mattress is shipped with UPS
The Perfect Choice for Tall Sleepers
The Twin XL Mattress
The Emma Twin XL mattress is the perfect solution for our taller sleepers or those who find themselves sleeping towards the end of the bed. The Emma Twin XL mattress is nearly as compact as the Twin, but gives some extra length for added comfort. It doesn't matter your size nor sleeping position, we are confident you will find that the Emma Twin XL is the right fit for you. With three layers of innovative foam blends, your sleep will be cool and supported throughout the night. You'll be comfortable no matter where your preferences fall on the scale of firm to soft. The Emma Twin XL memory foam mattress is the best twin xl mattress for all of your needs.
Emma is the reason why so many Europeans can't get out of bed
Emma's Comparison Table
Our Best Mattress Size Guide
The Emma Twin XL Mattress provides all of the convenience of an Emma Twin Mattress, with just a little extra room to stretch your legs! Are you not one of those people that can sleep curled up in a ball? Perhaps you move a lot during the night and sometimes find your feet falling off the bed. Or, maybe you're destined to be in the NBA and a twin size mattress just won't do! Well, in that case, turn to the Emma Twin XL. You can find its dimensions below.
Length (in)

Width (in)
75"
80"
84"
38"
Twin
Twin XL
-
54"
Full
-
-
60"
-
Queen
-
72"
-
-
Cal King
76"
-
King
-
Twin XL Mattress
We all have those taller than average people in our lives and the Twin XL mattress is perfect for them and for college dorm rooms. It measures five inches more than a twin, putting it at 38 inches wide and 80 inches long (97 x 203 cm). Now tall people can rest easy without hitting their heads or feet against the headboards or foot boards.
Price: $899
The Emma Promise
We've made how to choose a mattress easy!
We want you to get the best night's sleep, that's why we're not just committed to giving you the best products. We've simplified the ordering process and are more than happy to offer you free delivery and returns.