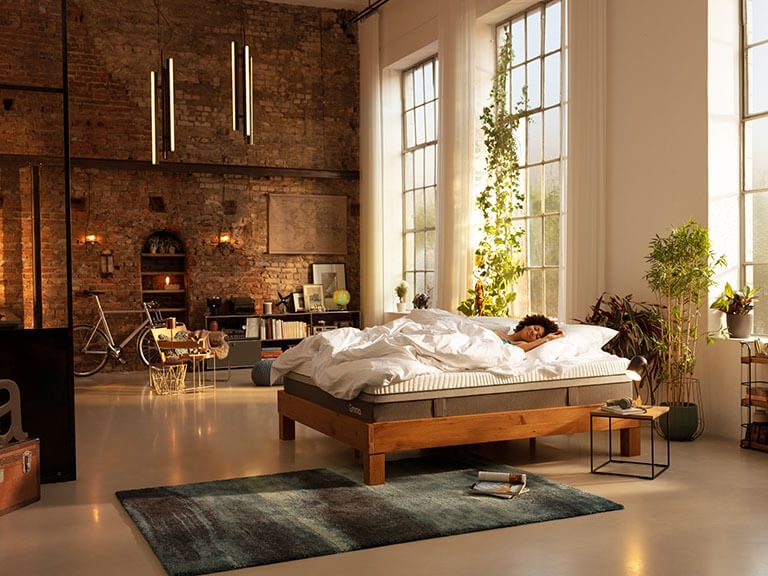 The Emma King Mattress
Europe's mattress that lets you sleep like a king
The perfect sleep from A to Zzzz
Take a look under the covers
Product Details
Construction and Materials

Mattress Construction

Climate Regulating Cover
Adaptive Airgocell Foam
Pressure Relieving Visco-Elastic Memory Foam
Supportive Base Foam with Adaptive Cut-out Technology
Made in the USA

Mattress Cover Materials

The Emma Mattress cover is removable and machine washable. It is composed of 99% polyester and 1% elastane.

Size and Weight

King Mattress

76 x 80 x 10 in,
72 lbs

Box Dimensions

Each Emma mattress comes in a 19"x19"x42" box.

Shipping Details

The Emma Mattress is shipped with FedEx
The Perfect Choice for Everyone
The King Mattress
The Emma King mattress was made with you in mind. Using the latest technologies and your invaluable feedback and comments, our in-house product development team created a mattress that is sure to get everyone sleeping happier- regardless of their preferred sleeping position or body type. Thanks to the perfect interplay of our innovative foams, the Emma King memory foam mattress is a perfect choice for everyone. It's neither a too firm king mattress nor a too soft king mattress, but instead provides an optimum amount of both support and comfort for everyone.
Emma is the reason why so many Europeans can't get out of bed
Emma's Comparison Table
Our Best Mattress Size Guide
Other than personal taste, there are a number of factors to think about before selecting your mattress size. Have you considered: the dimensions of the bedroom, if you plan to share the bed with your partner or pets, the importance of open space versus sleep space to you? There are size descriptions below and a King Mattress size guide that will give you a better idea of how to choose a mattress online.
Length (in)

Width (in)
75"
80"
84"
38"
Twin
Twin XL
-
54"
Full
-
-
60"
-
Queen
-
72"
-
-
Cal King
76"
-
King
-
King Mattress
The biggest mattress in terms of width, the King mattress measures 76 inches wide and 80 inches long (193 x 191 cm). The King memory foam mattress offers plenty of space for couples and room to spare for children or medium-sized pets. We recommend having a larger master bedroom to fit the king of at least 12 x 10 square feet. Fun fact: the King mattress was invented in 1890 and could fit up to 15 people!
Price: $1499
The Emma Promise
We've made how to choose a mattress easy!
We want you to get the best night's sleep, that's why we're not just committed to giving you the best products. We've simplified the ordering process and are more than happy to offer you free delivery and returns.